Statistic Data about my Blog and Other Stuff
In the case it can be interesting, here are some raw statistical information about my blog activity and the number of post per year.

These numbers are work in progress, of course.
Statistic Data About GitHub Activity
I've also an account on Gitlab, check there.
Statistic Data About this Blog
2020 (work in progress)
5 total posts have been written on 2020. There have been 13 different tags used, the most used popular being (in order of number of posts):
linux (1 posts)
multithreading (1 posts)
university (1 posts)
swap (1 posts)
qt (1 posts)
java (1 posts)
blog (1 posts)
freebsd (1 posts)
perl (1 posts)
hacktoberfest (1 posts)
aglets (1 posts).

The following is the overall 2020 post ratio by month:





The following is the overall 2020 post ratio by tag:

2019
72 total posts have been written on 2019. There have been 34 different tags used, the most used popular being (in order of number of posts):
postgresql (36 posts)
planet-postgresql-org (34 posts)
freebsd (11 posts)
linux (10 posts)
misc (5 posts)
microsoft (4 posts)
perl (4 posts)
java (3 posts)
kde (3 posts)
rant (3 posts)
perl5 (2 posts).

The following is the overall 2019 post ratio by month:





The following is the overall 2019 post ratio by tag: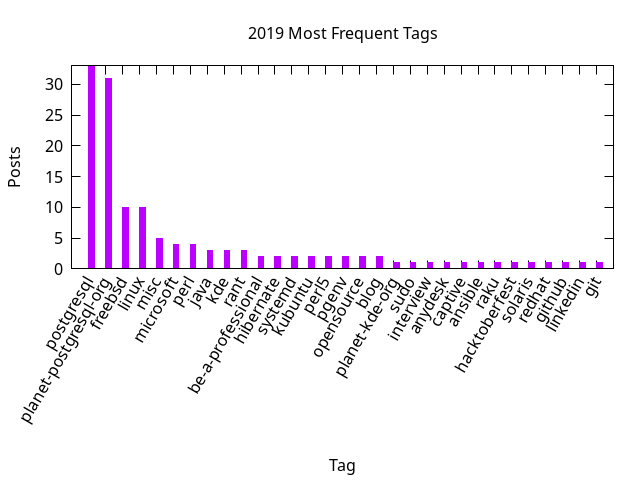 2018
47 total posts have been written on 2018. There have been 26 different tags used, the most used popular being (in order of number of posts):
postgresql (27 posts)
planet-postgresql-org (20 posts)
itpug (16 posts)
perl (5 posts)
raku (5 posts)
perl6 (4 posts)
git (4 posts)
python (3 posts)
pgenv (3 posts)
java (3 posts)
github (3 posts).

The following is the overall 2018 post ratio by month:





The following is the overall 2018 post ratio by tag: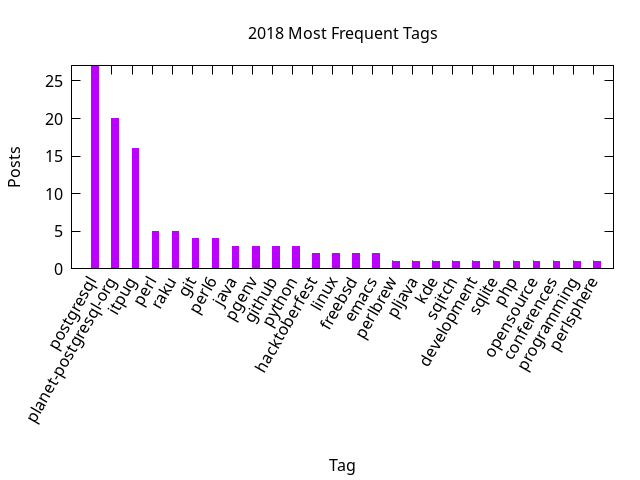 2017
158 total posts have been written on 2017. There have been 61 different tags used, the most used popular being (in order of number of posts):
perl (53 posts)
postgresql (32 posts)
programming (27 posts)
raku (18 posts)
programmazione (11 posts)
kde (9 posts)
linux (9 posts)
itpug (8 posts)
planet-perl-ironman (8 posts)
emacs (7 posts)
riflessioni (7 posts).

The following is the overall 2017 post ratio by month:





The following is the overall 2017 post ratio by tag: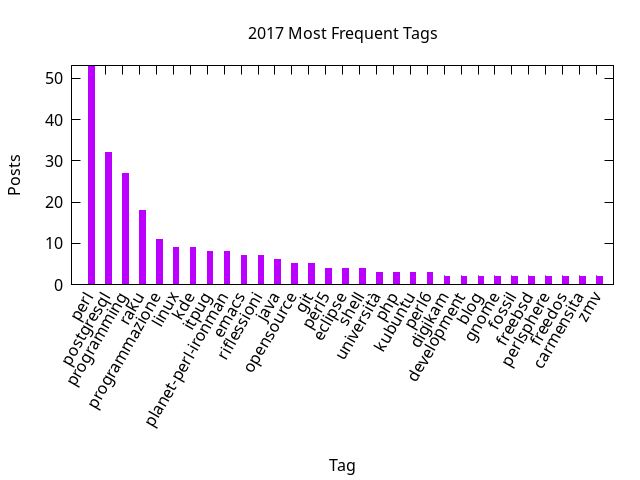 2016
83 total posts have been written on 2016. There have been 28 different tags used, the most used popular being (in order of number of posts):
postgresql (14 posts)
pgday (12 posts)
perl (9 posts)
itpug (9 posts)
riflessioni (9 posts)
emacs (5 posts)
programmazione (5 posts)
planet-postgresql-org (4 posts)
kde (4 posts)
planet-perl-ironman (4 posts)
opensource (3 posts).

The following is the overall 2016 post ratio by month:





The following is the overall 2016 post ratio by tag: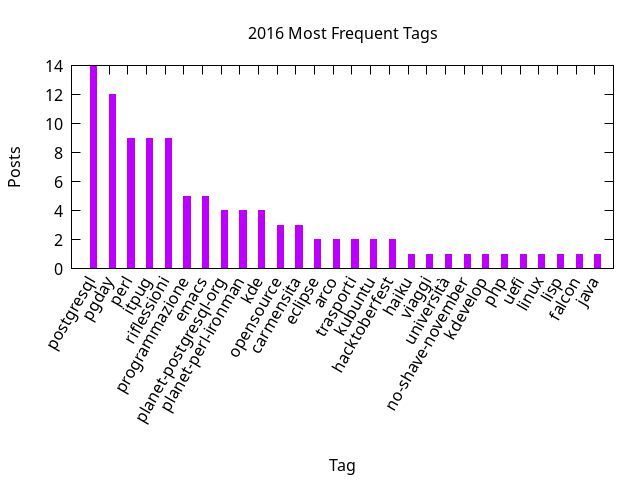 2015
46 total posts have been written on 2015. There have been 21 different tags used, the most used popular being (in order of number of posts):
postgresql (14 posts)
itpug (11 posts)
perl (11 posts)
planet-perl-ironman (8 posts)
programmazione (7 posts)
riflessioni (7 posts)
cpan-pr-challenge (6 posts)
pgday (5 posts)
planet-postgresql-org (5 posts)
freebsd (3 posts)
kde (3 posts).

The following is the overall 2015 post ratio by month:





The following is the overall 2015 post ratio by tag: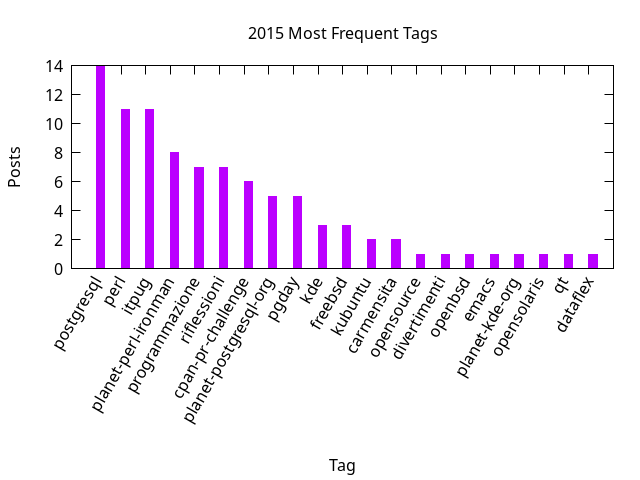 2014
70 total posts have been written on 2014. There have been 22 different tags used, the most used popular being (in order of number of posts):
postgresql (29 posts)
itpug (23 posts)
opensource (14 posts)
perl (7 posts)
emacs (6 posts)
riflessioni (4 posts)
divertimenti (3 posts)
kde (3 posts)
programmazione (3 posts)
carmensita (2 posts)
freebsd (2 posts).

The following is the overall 2014 post ratio by month:





The following is the overall 2014 post ratio by tag: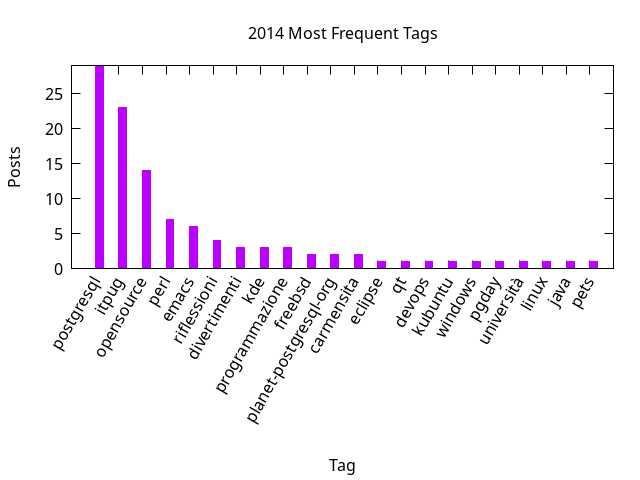 2013
83 total posts have been written on 2013. There have been 33 different tags used, the most used popular being (in order of number of posts):
postgresql (14 posts)
freebsd (11 posts)
divertimenti (11 posts)
opensource (10 posts)
emacs (10 posts)
riflessioni (10 posts)
programmazione (8 posts)
linux (7 posts)
perl (6 posts)
kde (6 posts)
itpug (5 posts).

The following is the overall 2013 post ratio by month:





The following is the overall 2013 post ratio by tag: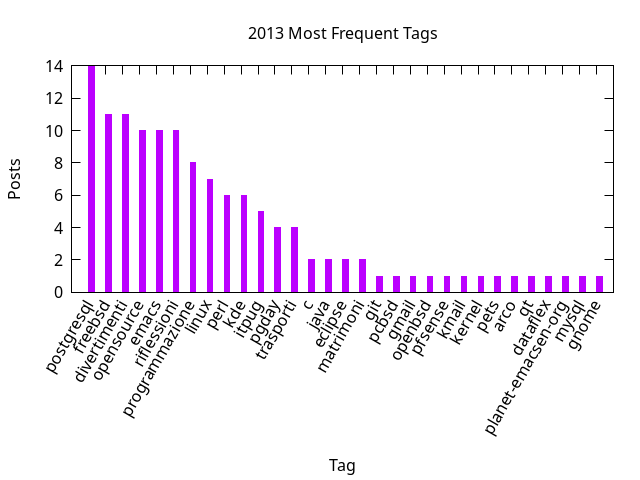 2012
95 total posts have been written on 2012. There have been 39 different tags used, the most used popular being (in order of number of posts):
freebsd (19 posts)
programmazione (14 posts)
linux (13 posts)
opensource (10 posts)
riflessioni (10 posts)
postgresql (9 posts)
qt (8 posts)
kde (8 posts)
emacs (7 posts)
java (5 posts)
pcbsd (4 posts).

The following is the overall 2012 post ratio by month:





The following is the overall 2012 post ratio by tag: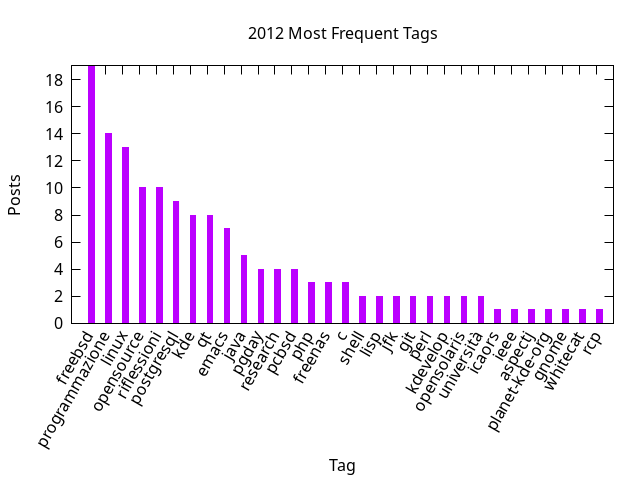 2011
110 total posts have been written on 2011. There have been 43 different tags used, the most used popular being (in order of number of posts):
programmazione (33 posts)
java (21 posts)
linux (14 posts)
qt (13 posts)
riflessioni (11 posts)
postgresql (11 posts)
freebsd (10 posts)
opensource (8 posts)
kde (7 posts)
eclipse (6 posts)
opensolaris (5 posts).

The following is the overall 2011 post ratio by month:





The following is the overall 2011 post ratio by tag: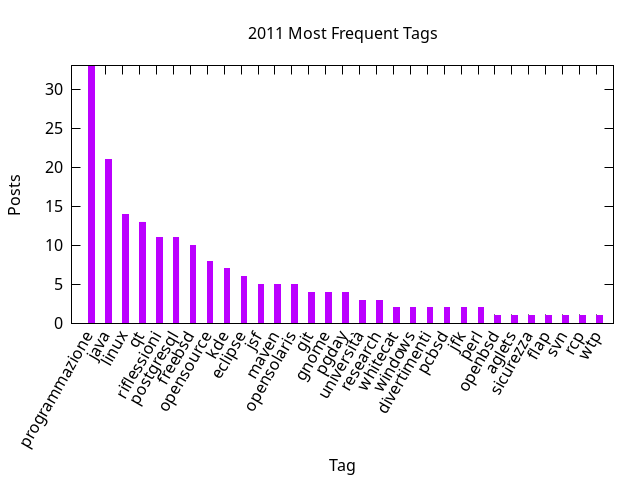 2010
124 total posts have been written on 2010. There have been 31 different tags used, the most used popular being (in order of number of posts):
java (38 posts)
eclipse (26 posts)
postgresql (21 posts)
opensource (20 posts)
rcp (15 posts)
linux (13 posts)
research (12 posts)
riflessioni (11 posts)
swt (11 posts)
kde (10 posts)
whitecat (10 posts).

The following is the overall 2010 post ratio by month:





The following is the overall 2010 post ratio by tag: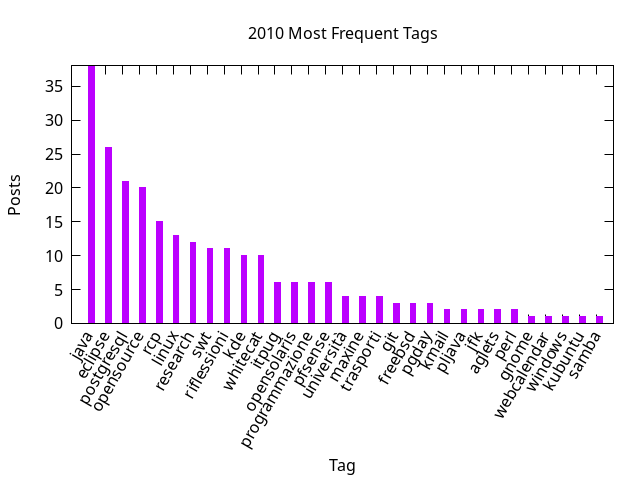 2009
61 total posts have been written on 2009. There have been 25 different tags used, the most used popular being (in order of number of posts):
programmazione (19 posts)
java (16 posts)
postgresql (12 posts)
riflessioni (8 posts)
arco (7 posts)
università (6 posts)
trasporti (5 posts)
opensource (4 posts)
eclipse (4 posts)
linux (4 posts)
aglets (3 posts).

The following is the overall 2009 post ratio by month:





The following is the overall 2009 post ratio by tag: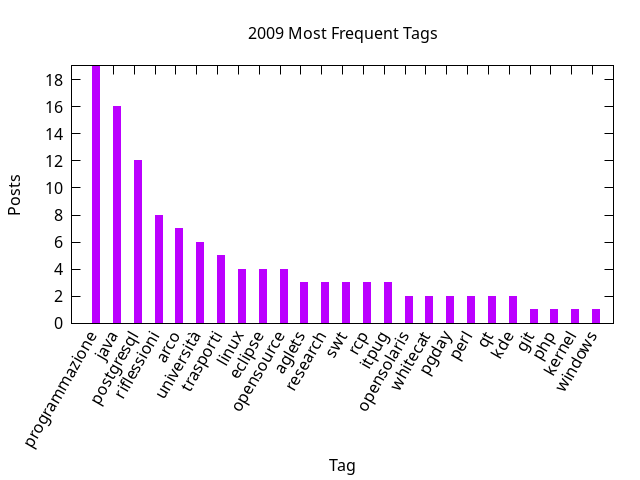 2008
154 total posts have been written on 2008. There have been 26 different tags used, the most used popular being (in order of number of posts):
linux (57 posts)
postgresql (30 posts)
università (25 posts)
java (25 posts)
riflessioni (20 posts)
arco (16 posts)
trasporti (9 posts)
eclipse (8 posts)
pgday (6 posts)
programmazione (6 posts)
kde (6 posts).

The following is the overall 2008 post ratio by month:





The following is the overall 2008 post ratio by tag: