Perl Weekly Challenge: April Champion
Today I opened the
Perl Weekly Challenge
in order to read the tasks to perform, and
with my pleasure
,
I discovered that I am been selected as the champion for April 2020
: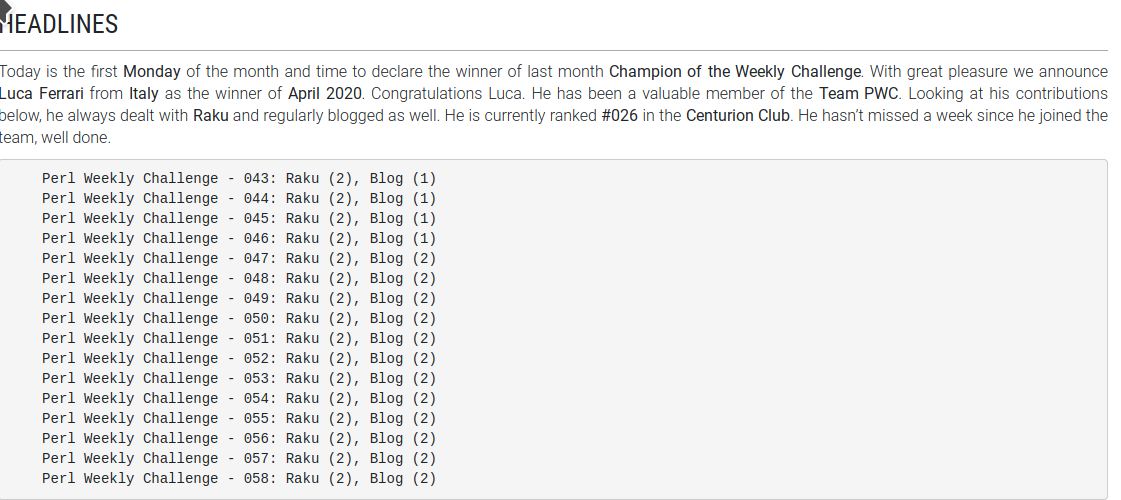 It is an honor and a pleasure, and I have to really thanks Mohammad for creating this interesting challenge because, apart from let me learning more about Raku, this helped me in *making the COVID-19 period less strange** than what it really is around the planet.
I strongly encourage everyone that wants to puzzle at Perl and Raku problems to have a look at the challenge and try to do it.
The only thing you can obtain from participating, is to improve your Perl skills!
Update
When I was selected as April Champion, I noticed that a few blog entries were missing from my ranking poition. I sent an email to Mohammad that promptly fixed the problem, so that I'm, at the time of writing,
ranked 24
in the
Centurion Club
.